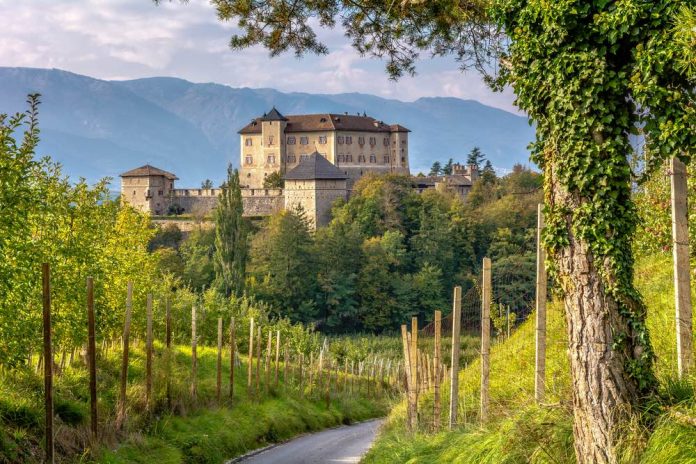 The Val di Non is a concentration of sights to see: castles, lakes and sanctuaries. Making base in Fondo , a mountain village with a crucial position, here are 3 ideas for a weekend (not only) winter.
This is the link to the map of the area
Visit the Sanctuary of San Romedio
Legend has it that here the noble Romedio lived as a hermit in the company of only a bear. This is why the wildlife area has been created where an exemplary Abruzzese circulates in semi-freedom.
The Hermitage can be reached by car ( Google Maps directions  ) or on foot.
Do not miss the panoramic walk along the path in the rock , path carved into the wall and protected by a parapet. Admire from the valley where the Rio di San Romedio flows … it is indescribable!
The departure is in front of the Rhaetian Museum of Sanzeno and takes about 45 min. (here the route map )
Six reasons to see the Hermitage:
It is a pilgrimage destination

It is immersed in the silence of the woods

It stands on a rocky spur about 70 m high

It consists of five small churches perched

The latter are connected by a staircase of 131 steps

The small balcony is a panoramic point
Open all year, admission is free and Masses are also celebrated.
Walk to the ravine
It is an alternative to the Rio Sass Canyon , closed in winter. The walk starts from the historic center of Fondo , takes about 30 min. and ends at the suggestive Lake Smeraldo. Along the way, equipped with walkways and ladders, you come across a mill and a waterfall.
During the Christmas period this small (artificial) water mirror turns into a skating rink, while in summer it is suitable for bathing. On its banks is the Al Folon restaurant-pizzeria . It is a local Trentino local who offers specialties such as dumplings, gnocchi alla nonesa and carne salada … without forgetting the local trout!